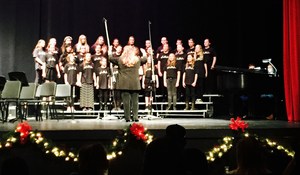 Pagosa Family School's lead choral director is the talented and dedicated vocalist, musician, and performer Mrs. Katrina Thomas.  Mrs. Thomas is committed to sharing her musical talents in our scho
ols and in our community.
Pagosa Family School's music classes are an amazing opportunity for your child to learn the love of music and gain experience performing in concerts.  Elementary students will meet every Tuesday and Thursday for 55 minutes.  Middle school students will be learning side-by-side with public school students and the times are outside of our family school scheduled hours.  Fifth and sixth-grade choir will be Monday and Wednesday from 12:18 - 1:50.   Seventh and eighth-grade choir will be Tuesday and Thursday from 11:18 - 12:50.  Please contact Principal Lewis for enrollment.